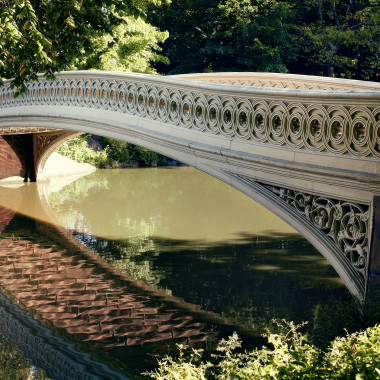 The Nicole: Grab an Oar: The Central Park Boathouse
July 18, 2016
The views from the luxury Midtown West apartments at The Nicole offer striking panoramas of Manhattan. From the privacy of your own home, you have intimate contact with the strange calm of New York's tallest buildings and can experience the total effect of the vast and monumental skyline. But this is a neighborhood where the inexhaustible attractions of city life do not exclude the possibility of immersion in nature thanks to Calvert Vaux and Frederick Law Olmsted's masterpiece of landscape architecture, Central Park. And at the park's center, there is a place more romantic than any other in the city—the Loeb Boathouse.
The Loeb Boathouse sits on the side of the lake, cradled on one side by a ledge of rock that angles down to the water, where golden fish dart between the rowboats, and butterflies skim the surface. It is home to an award-winning restaurant with tables that sit on two levels of an outdoor terrace, overlooking the water. If you get a table by the water's edge, you can hear the gondoliers ferrying visitors through the lake while you feast on sautéed bronzini, chili-rubbed pork loin, and the fresh rolls that waiters serve hot and wrapped in linen napkins.
To dine here is to enter into the deep magic of Central Park, where the beauty of the water and the trees transport you, where you can observe birdwatchers with binoculars facing the treetops before they head to the boathouse to record their findings in the birdwatching record book that has resided there for years. It's the perfect place to eat before enjoying an outdoor play at Shakespeare in the Park, and, of course, it's also one of the loveliest spots in town for a spring or summer wedding.
There is truly no better way, though, to feel like you have stepped into an Impressionist painting, right in the center of the city, than to rent a boat and while away the afternoon on a romantic ride on the lake. The boats are also a favorite with children, who are always excited to man an oar and help steer the ship while learning about the famous buildings emerging from the skyline above the trees.
Back to articles