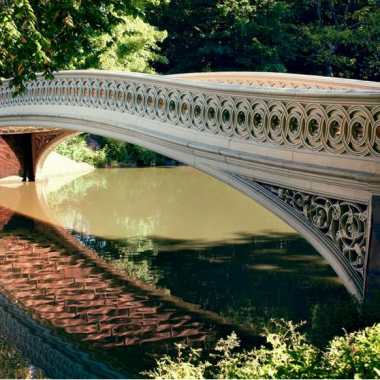 Fitness in Central Park
November 10, 2015
While fitness clubs and gyms provide a great place to exercise, sometimes you just want to be outside. In the summer, exercising outdoors can be a bit rough with the sun beating down on you as you try to muscle out those last few pushups or hold that bird of paradise pose. But in the fall after things have cooled down, changing leaves offer a colorful backdrop and breezes often provide refreshing respites during a workout in progress. Fall is the best season for outdoor workouts, and a short walk from The Nicole can land you in Central Park, one of the best spots in the city to indulge in some outdoor fitness.
Yoga ‒ Strike a Pose
Yoga can be reflective and serene in a studio, but the best venue for the practice is outside. Yoga is about more than fitness; it is about connecting and feeling centered so you can get to a place where the movements, the breathing, the entire process feels like one cohesive activity. Sliding in and out of poses on a lush, green field in Central Park as wind rustles through the surrounding trees can be a wonderfully cathartic activity. Yoga burns calories, keeps you limber, and has a uniquely calming effect, especially when practiced outside. Meetup.com often posts about free,  organized yoga courses in Central Park, or you can simply go it alone or arrange a group session yourself.
Bootcamp ‒ Down and Give Me 20!
Military-esque fitness training has worked its way into the mainstream over the past few years, primarily due to its intensity and ability to yield significant results. Many bootcamp-type classes are held in Central Park, but one of the best and most flexible is Stacey's Bootcamp. Stacey's offers classes in Central Park in the early mornings and after work during the week, and if none of the times offered work for you, you can contact them directly and set up your own class. Bootcamp training focuses on cardiovascular and strength training without the use of weights or fancy machines. Your body weight is all you need to get into amazing shape. A bootcamp class can give you that push to get back into working out, or help you break through a plateau and reach your next level of fitness.
Run ‒ Simple and Effective
All runners will tell you that fall is the best season for running outside. The summer ‒ as mentioned earlier ‒ is beautiful, but it can be a bit rough on the lungs and skin. Whether you are a  seasoned runner or someone who is just starting out, the oft-referred-to runner's high is always worth striving for, regardless of the season—and it does not happen on a treadmill. Running is one of the best cardiovascular workouts one can do, and there's something singularly exhilarating about propelling yourself around outdoors. Central Park with its trails and running paths is one of the most enjoyable places to run in the entire city. Moreover, there are numerous running clubs and organized runs in Central Park for every skill level. Joining one can help you get introduced to running or improve your time and/or distance.
Bike the Park ‒ Two Wheels to Freedom
Central Park is also home to one of the best bike paths in Manhattan due in great part to its scenery, which includes gorgeous green expanses bordered by trees. Featuring loops that range from 1.7 miles to 6.1 miles in length, the Central Park bike path is designed so those at all skill levels can enjoy a ride here. There are also hilly sections to increase the intensity of a workout and long flat portions on which to rest. The park's car-free policy on the weekends makes biking its paths even more enjoyable. Biking can be a freeing experience that provides a less strenuous yet still phenomenal cardio workout. Residents of The Nicole live just a few pedal strokes away from some of the most enjoyable riding in the city. The best part of riding a bike is the unbridled fun of it all. As many biking enthusiasts know, working out is far more enjoyable when it doesn't feel like you're working out.
Back to articles