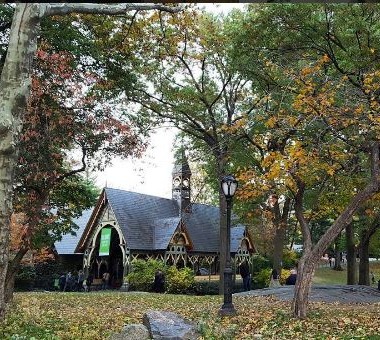 Central Park, a Winter Wonderland
December 27, 2016
Nothing in New York City's winter cityscape even comes close to the iconography of Central Park blanketed in snow. And nothing is comparable to the magic and delight found in this wonderland of activities and serenity buried deep in the heart of the city. Best of all, The Nicole apartments located near Columbus Circle, offer you no-fee rentals in NYC just across the street, allowing you and your friends a winter base camp for ice skating, sledding, carriage rides, and all that the season offers. So don't hide away inside. Get out and enjoy the season to its fullest.
While we are fans of wandering about and stumbling onto those unexpected joys that come with exploration, nothing orients you to your surroundings faster than a guided tour. For just a two-hour time investment and a nominal fee, treat yourself to the Holiday Sights Tour, which starts at the Grand Army Plaza. Along the way, you'll encounter the neogothic St. Patrick's Cathedral, Rockefeller Center with its majestic tree towering over the ice rink below, and Radio City Music Hall, home to the world-famous Rockettes. If shopping is on your mind, you'll be in awe of the highlights along Sixth Avenue, Tiffany's sparkling holiday line, and the ever-inventive windows of Bergdorf Goodman. You'll finish at Bryant Park Skating Rink and the Winter Village Christmas kiosks: an ideal spot to search for the perfect gift from a plethora of eclectic and unique items suited to every taste.
If you're looking for a little—or big—taste of EVERYTHING, then don't miss Winter Jam NYC. Winter Jam, a free winter sports festival, transforms Central Park into the ultimate winter playground. The event welcomes all New Yorkers in rain, shine, or snow for a day of sports, music, and food. Thanks to Gore Mountain, there's always plenty of fresh snow as you learn skiing and snowboarding, try your hand at kick-sledding, or even go snowshoeing. Bring your own gear and enjoy the open areas or borrow theirs for lessons and adventure. Warm up with something to eat at the Taste NY Winter Market, and once you've had your fill, head back out for a sledding run. This is one event not to be missed.
Romance, nostalgia, and just plain old fun—ice skating in Central Park is the quintessential NYC winter activity. Wollman Skating Rink, which is a five-minute stroll from the south end of the park, provides an expansive space for ice dancers and novices alike to hone their skills. Some will recognize this familiar winter scene from the movies Love Story or Serendipity or from postcards or winter scapes of Central Park, but the flickers and photos don't truly do it justice. There's simply nothing like being there in person, lacing up a freshly sharpened pair of skates, and cutting figure eights on a cold winter night at Wollman. Locker rentals and concessions provide convenience, and classes are offered seven days a week for those looking to learn figure skating or hockey. For a little something extra to top off an afternoon or evening on the ice, take a romantic carriage ride around Central Park, snuggling under a blanket and enjoying the gentle clip-clopping of your personal horse-drawn tour.
Back to articles