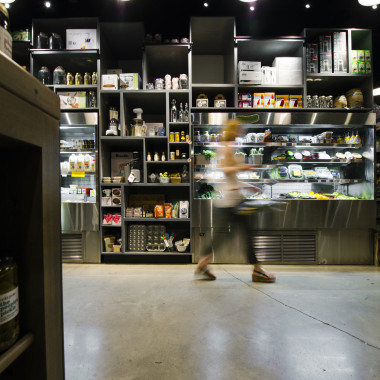 An Edible Feast on Manhattan's West Side
February 14, 2016
The neighborhoods of Manhattan's West Side are known for their epicurean delights as they boast some of the city's most legendary food emporiums. The Upper West Side is home to the flagship locations of Zabar's and Fairway Market, both of which have been in continuous operation since the 1930s. New York favorites Gourmet Garage and Amish Market also have outposts in the Columbus Circle and Hell's Kitchen neighborhoods.
Residents of The Nicole have easy access to some of New York City's best markets and cook shops—all the more reason to take advantage of The Nicole's well-appointed kitchens. Whether you're an avid home cook or are simply seeking convenience and prepared foods, your options are plentiful. Here, a sampling of some of the top sellers at a few renowned local shops:
Zabar's: This iconic food emporium and cook shop is perhaps most known for its assorted smoked fish and caviar, fresh-baked breads, cheese department, and specialty coffee blends. A wonderful way to sample Zabar's is to pick up all the fixings for setting up a lavish DIY bagel station—the perfect solution for relaxing weekend mornings at home. Signature coffee beans and fresh-squeezed juices are also recommended.
2245 Broadway at W. 80th Street, http://www.zabars.com
Fairway Market: Over the years, this local grocery store chain has built and maintained a reputation for selling quality food – from produce to pantry goods – at fair prices. In particular, the company earns raves from home cooks for its house-brand vinegars, olive oils, and spices. While Fairway does sell prepared foods, including the always-popular Murray's rotisserie chickens, the market is designed with chefs in mind, offering everything you need for a delicious, home-cooked meal – from basics to exotic ingredients – under one roof.
2131 Broadway at W. 74th Street, https://www.fairwaymarket.com
Gourmet Garage: New Yorkers who have a Gourmet Garage location in their neighborhood count themselves lucky: This restaurant-supplier-turned-grocer is a skilled home cook's best friend. Built around the motto "Shop Like a Chef!", Gourmet Garage has everything you need to cook up a memorable feast, from imported Italian pasta to prime cuts of meat. Additionally, Gourmet Garage boasts a large "Gourmet to Go" section of prepared foods including rotisserie chickens, homemade soups, sushi, and much more.
155 W. 66th Street, http://www.gourmetgarage.com
Amish Market: Nearby Hell's Kitchen is home to one of just three Amish Market locations in all of New York City. With selections ranging from imported pantry staples to the choicest fresh produce, this purveyor of fine foods caters to home chefs who appreciate quality ingredients. Amish Market also features an in-house bakery and full-service deli and coffee bar, as well as a wide selection of prepared foods with an emphasis on healthful options such as sushi, smoothies, and homemade soups. With its convenient location and wide assortment, it's easy to see why Amish Market is one of the go-to grocery stores for residents at The Nicole.
731 9th Avenue, http://www.amishfinefood.com
Back to articles